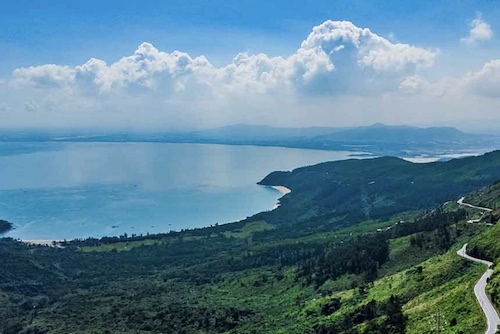 Ielts Speaking Part 2 Car Journey sample 8.0+ by cô Dương Vũ 8.5 Ielts. LIKE/ Follow facebook Ielts 8.5 Dương Vũ để học từ vựng free và nhiều samples speaking writing band cao hay các bạn nhé: https://www.facebook.com/idvielts/
To be honest, I'm not really into traveling by car, especially long-distance trips as I usually have motion sickness. However, there was a trip by car I took a couple of years ago, which I found truly intriguing and enjoyable so let me tell you about it.
That summer, my closest friend and I decided to travel to Hoian Ancient Town, a popular destination for holiday makers in Danang province, Central Vietnam. At first we wanted to take a night train from Hanoi to Danang but then we decided to stop at Hue to have a glance at this imperial city and then hire a car to reach Hoi An. The main reason we changed our plan was to admire stunning scenery along the road between the two cities, especially the view from the legendary Hai Van Pass. 
I was glad we made the decision because the section between Hue and Danang turned out to be the most incredible part of our vacation. I couldn't take my eyes off the spectacular landscape of both Hue and Danang. I was in awe when the car slowly made its way up the Hai Van Pass, literally meaning the Ocean Cloud Pass in Vietnamese. I can't think of a better name. Through the car window, I could see magnificent Marble mountains, blue sea and amazing sky with white clouds. The view just took my breath away and I forgot all the tiredness of that 4-hour journey. I didn't feel dizzy at all when reaching our hotel in Hoi An, which was truly magical. 
Copyright by Dương Vũ 8.5 Ielts  – IDV Ielts
KHOÁ HỌC IELTS 6.5, 7.0 , 7.5 , 8.0 UY TÍN với giáo viên 8.5 Ielts: http://idvielts.com/category/courses/
FULL ESSAYS theo Actual Tests in IELTS WRITING 8.0 BOOKS + 200 SAMPLES 2 tasks by Dương Vũ 8.5 Ielts  – 8.0 Writing : bộ sách cô đọng, tiết kiệm, hiệu quả cho các bạn tự học bao gồm video bài giảng, hướng dẫn viết luận chi tiết theo dạng bài, bộ ý tưởng & ideas cho 150 topics, cấu trúc ngữ pháp band cao và hàng trăm essay samples CHUẨN band 8.0 – 9.0 đã giúp nhiều bạn đạt 6.5 – 7.0 – 7.5 speaking & writing: https://idvielts.com/sach-ielts-writing-by-duong-vu/
https://idvielts.com/sach-ielts-speaking-duong-vu/
Tặng bạn top Ielts Essay Band 8.5 – 9.0 chuẩn viết bởi cô Dương Vũ 8.5 Ielts 2 lần 8.0 Writing: https://drive.google.com/file/d/1DWGBdvRMZfMvB8BEM5TP0lz47X_6PjU9/view?usp=share_link
Follow facebook Ielts 8.5 Dương Vũ để học từ vựng free và nhiều samples speaking writing band cao hay các bạn nhé
Feedback Ielts 7.0, 7.5, 8.0 từ Học trò của Dương – người học thật – điểm thật 100%: