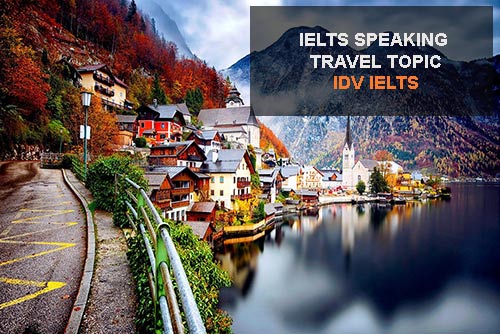 Ielts Speaking Part 1 Travel Topic Sample Answers – câu trả lời mẫu chủ đề Travel
Do you like travelling?
Absolutely. It is my lifelong passion. I love meeting new people, experiencing new cultures, tasting exotic food and taking awesome photos.
Do you like to travel by air?
Sure, it is very fast and convenient compared to other means of transport. I mainly fly for business, and sometimes for both work and holiday.
What do you think about travelling to the outer space?
It sounds fascinating, like a fantasy. However, I believe space travel will eventually come true. Airplanes, computers and smartphones we are using today were once just someone's imagination, weren't they?
What would you prepare on a trip to the outer space?
I suppose I would need to make sure I'm in perfect physical condition. Also, I must go through rigorous training on how to cope with extreme levels of pressure and the feeling of weightlessness.
(khỏe mạnh: in good condition/ trải qua: go through/ chịu được: cope with)
Where would you like to travel for a vacation? (Why?)
I enjoy going off the beaten track to discover remote mountainous areas or little known villages in the countryside. This allows me to stay away from all tourist traps and truly get immersed in local culture.
(đến những nơi it người đã từng đến: go off the beaten track)
Who do you often spend holiday with?
I enjoy travelling with my close friends, several of them are also my colleagues. I believe amazing experience and joy multiplies when shared among a group of like-minded individuals.
(like-minded: đồng chí hướng, sở thích, quan điểm)
Do you prefer traveling alone or in a group?
When I was young, solo or independent travel would be my first choice. The older I get, I realize that having someone by my side can make the journey even more exciting and fulfilling. Also, I don't have to ask strangers to take photos for me anymore.
How much traveling have you done?
I've done several road trips across Vietnam, from tribal highlands in the North to the Mekong Delta in the South. Thailand, Cambodia and Japan are some Asian countries I've visited. I hope to add more European countries to the list soon.
What kind of places have you visited in your life?
I've been to quite many different places, ranging from the futuristic Tokyo with its cutting edge facilities to unknown laid-back villages in the far north of Vietnam. I think we are all in search of novel experiences and diversity when travelling.
When you visit new places, what do you like to do?
I am a food lover so I always try to discover local cuisine first. Wandering around, visiting historical sights and talking to people are also excellent ways for me to get some insights into local culture.
In which seasons do you prefer to travel?
Generally, mild and dry weather is perfect for my travel style with a lot of walking around.  I love travelling in autumn and early winter but it really depends on each destination.
What is the best season to travel in your country?
The prime time to visit Vietnam is in autumn (September to November) when the weather is most favourable: it is sunny but not too hot or humid. Most importantly, these months are not local holiday season, thus less crowded.
(Copyright by DUONG VU – IDV)
Kinh nghiệm viết luân Ielts Essay 8.0 của Dương: https://idvielts.com/kinh-nghiem-viet-luan-ielts-band-8/
Kinh nghiệm học Ielts Writing 8.0 TASK 1 các bạn đọc ở đây nha: https://idvielts.com/kinh-nghiem-hoc-ielts-writing-task-1-band-8/
Khóa học Ielts Chuyên Sâu 6.5 – 8.0: https://idvielts.com/category/khaigiang/
Follow Dương trên các Facebook sau để học các bài học Ielts 8.0+ hoàn toàn miễn phí và cập nhật nhất các bạn nhé:
https://www.facebook.com/duong5ting/