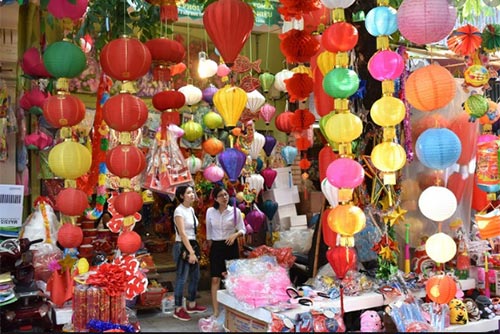 Ielts Speaking Describe a colourful place – A place that is full of colours
Sample Band 8 from Ielts Speaking Book by Dương Vũ – Full Sample 3 Parts + Hướng dẫn trả lời chi tiết part 1, 2, 3 : https://idvielts.com/sach-ielts-speaking-duong-vu/
Hướng dẫn chiến lược tìm IDEA trả lời Ielts Speaking đạt điểm cao: https://www.youtube.com/watch?v=rq4oXltoHt0
Well, when I read the words "a colourful place", the one that immediately popped into my head is Hàng Mã Street in Hanoi Old Quarter. I found it by chance while rambling around the area to practice my photography skill a couple of years ago.
This street is lined with old stores built in typical housing architecture of Hanoi – a two-storey yellow block with dark green windows. The major products on display are paper votive offerings that come in all shapes and sizes. They are burnt by locals with hope that their ancestors could use them in their afterlife. Most items are made of papers in vibrant, shiny colours such as red, green, silvery and yellow. On special occasions, Hàng Mã Street also offers children toys, disguise clothes, lanterns and other festive decoration stuffs, all in catchy neon colours.
People from far and near flock to this little market during traditional holidays or festivals such as Mid-Autumn Festival, Lunar New Year, Halloween or Christmas. Local youngsters consider it one of the top destinations for taking amazing selfies with a stunning background. I love its vibrant vibe and photogenic settings.  This is the place to go whenever I need some inspiration for work or a mood booster.
IDIOMS: popped into one's head/  by chance/ come in all shapes and sizes / from far and near
 (Copyright by DUONG VU) 
Kinh nghiệm viết luân Ielts WRITING 8.0: https://idvielts.com/kinh-nghiem-viet-luan-ielts-band-8/
Kinh nghiệm học Ielts Writing 8.0 TASK 1 các bạn đọc ở đây nha: https://idvielts.com/kinh-nghiem-hoc-ielts-writing-task-1-band-8/
Khóa học Ielts Chuyên Sâu 6.5 – 8.0: https://idvielts.com/category/khaigiang/
Follow Dương trên các Facebook sau để học các bài học Ielts 8.0+ hoàn toàn miễn phí và cập nhật nhất các bạn nhé:
https://www.facebook.com/duong5ting/