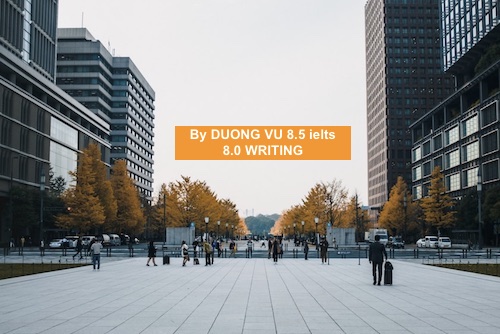 Some people think that it is important for all towns and cities to have large public outdoor places like squares and parks. To what extent do you agree or disagree?
IELTS ESSAY BAND 8.0 – 9.0  FROM IELTS WRITING 8.0 BOOKS BY DUONG VU 8.5 Ielts – 8.0 WRITING (2 lần): https://idvielts.com/sach-ielts-writing-by-duong-vu/
City planning has remained a contentious topic over the last decades. Some people assert that it is crucial for all cities and towns to have large public outdoor spaces such as parks or squares. I agree with this assertion and this essay will elaborate on my reasons.
Admittedly, it is difficult to design large outdoor public places in crowded urban areas. They take up vast space which is a scarce resource in densely populated cities. The shortage of open space might put urban planners and municipal governments under a great deal of pressure as overcrowding might urge them to prioritize fundamental facilities such as schools and hospitals over parks.  
However, I believe all towns and cities should have large public outdoor spaces. Firstly, having such places in urban areas can significantly improve their residents' health. Open spaces and green spaces such as parks allow locals to do recreational activities such as running and jogging regularly. Physical exercises can boost their immune systems and lower their risks of serious diseases. Not to mention, parks filled with luxuriant trees can serve as a carbon sink that helps alleviate air pollution in major cities and create a relaxing environment for locals to relieve stress and improve their mental well-being. A healthy population means reduced needs for hospitals and other healthcare facilities. Another reason is that spacious public places help build tight-knit communities. They make perfect venues for public events and cultural activities such as festivals or music concerts. These are valuable opportunities for locals to get to know other members in their community and strengthen their bonds.
In conclusion, although it is hard to design large outdoor public spaces such as parks and squares in overcrowded cities, I believe all urban areas should have these places because their long-term benefits are too enormous to overlook.
Copyright by cô Duong Vu – 8.5 Ielts – 8.0 Writing 
Full 200 samples in: IELTS WRITING 8.0 BOOKS + 100 ESSAY SAMPLES by Dương Vũ 8.5 Ielts – 8.0 Writing 2 lần: bộ sách cô đọng, tiết kiệm, hiệu quả cho các bạn tự học bao gồm video bài giảng, hướng dẫn viết luận chi tiết theo dạng bài, bộ ý tưởng & ideas cho 150 topics, cấu trúc ngữ pháp band cao và hàng trăm essay samples CHUẨN band 8.0 – 9.0 đã giúp nhiều bạn đạt 6.5 – 7.0 – 7.5 speaking & writing: https://idvielts.com/sach-ielts-writing-by-duong-vu/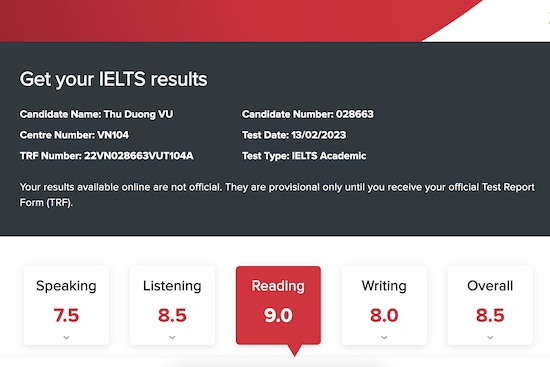 https://idvielts.com/sach-ielts-speaking-duong-vu/
Tặng bạn top Ielts Essay Band 8.5 – 9.0 chuẩn viết bởi cô Dương Vũ 8.5 Ielts 2 lần 8.0 Writing: https://drive.google.com/file/d/1DWGBdvRMZfMvB8BEM5TP0lz47X_6PjU9/view?usp=share_link
KHOÁ HỌC IELTS 6.5, 7.0 , 7.5 , 8.0 UY TÍN với giáo viên 8.5 Ielts: http://idvielts.com/category/courses/
Feedback Ielts 7.0, 7.5, 8.0 từ Học trò của Dương – người học thật – điểm thật 100%: