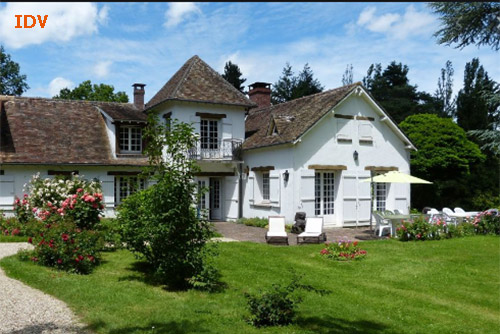 Ielts Speaking A house you'd like to live in = A perfect house samples 8.0+ by cô Dương Vũ 8.5 Ielts. LIKE/ Follow facebook Ielts 8.5 Dương Vũ để học từ vựng free và nhiều samples speaking writing band cao hay các bạn nhé: https://www.facebook.com/idvielts/
Dream house/ Perfect house là topic mới của bộ đề dự đoán Ielts Speaking quý 2 2023 nên sẽ được giữ lại sang bộ đề dự đoán Ielts speaking quý 3 2023 (cuối) 2023 nhé: https://idvielts.com/bo-de-du-doan-ielts-speaking-quy-2-2023/
Hướng dẫn chiến lược tìm IDEA trả lời Ielts Speaking đạt điểm cao: https://www.youtube.com/watch?v=rq4oXltoHt0
Well, I've never thought much about this but I firmly believe my family's cottage in the countryside would paint the picture of a perfect accommodation for me.
First and foremost, it should be located in a tranquil area with breath-taking scenery. As a nature lover, I'd love to stay as close to mountains, forests and rivers as possible. Also, I'm dying to have a large garden where I can grow a variety of flowers, vegetables and herbs. During my childhood years, I used to help my parents out with easy jobs on the farm such as watering plants or picking fruits. This has instilled in me an ever-lasting love for soil, sunshine, water and trees, so a garden is definitely a must.
About the building and design, I don't have a particular style in mind right now but a fair combination of comfort and sustainability would be all that I wish for. I can imagine a two-storey house with three cosy bedrooms, a living room and a spacious kitchen. It's best if all rooms on the second floor are complete with a balcony and fabulous views over the surrounding areas. Moreover, it would be a big bonus if there is a huge front yard where my children can have a great time playing outdoors.
All in all, I'm a big fan of a rustic house in quiet areas, preferably in a small town or in the countryside.  For now, I'm happy living in the city but when I settle down, I hope I will be able to afford such a house.
IDIOMS: Paint the picture of …for SO/  Be dying to …/ Settle down / Have a great time
Copyright by Dương Vũ 8.5 Ielts  – IDV Ielts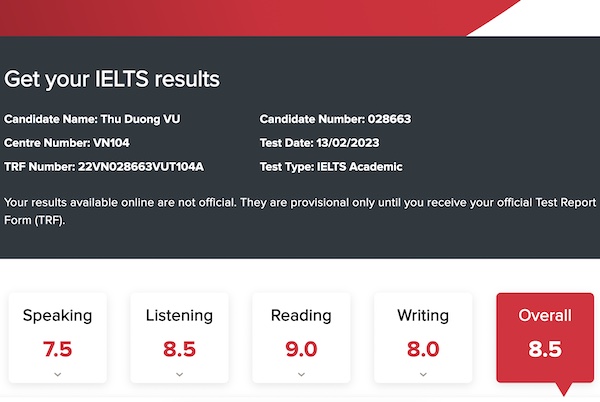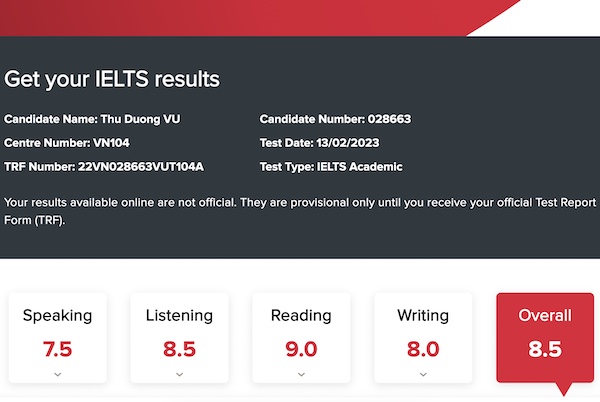 KHOÁ HỌC IELTS 6.5, 7.0 , 7.5 , 8.0 UY TÍN với giáo viên 8.5 Ielts: http://idvielts.com/category/courses/
FULL ESSAYS theo Actual Tests in IELTS WRITING 8.0 BOOKS + 200 SAMPLES 2 tasks by Dương Vũ 8.5 Ielts  – 8.0 Writing : bộ sách cô đọng, tiết kiệm, hiệu quả cho các bạn tự học bao gồm video bài giảng, hướng dẫn viết luận chi tiết theo dạng bài, bộ ý tưởng & ideas cho 150 topics, cấu trúc ngữ pháp band cao và hàng trăm essay samples CHUẨN band 8.0 – 9.0 đã giúp nhiều bạn đạt 6.5 – 7.0 – 7.5 speaking & writing: https://idvielts.com/sach-ielts-writing-by-duong-vu/
https://idvielts.com/sach-ielts-speaking-duong-vu/
Tặng bạn top Ielts Essay Band 8.5 – 9.0 chuẩn viết bởi cô Dương Vũ 8.5 Ielts 2 lần 8.0 Writing: https://drive.google.com/file/d/1DWGBdvRMZfMvB8BEM5TP0lz47X_6PjU9/view?usp=share_link
Follow facebook Ielts 8.5 Dương Vũ để học từ vựng free và nhiều samples speaking writing band cao hay các bạn nhé
Feedback Ielts 7.0, 7.5, 8.0 từ Học trò của Dương – người học thật – điểm thật 100%: