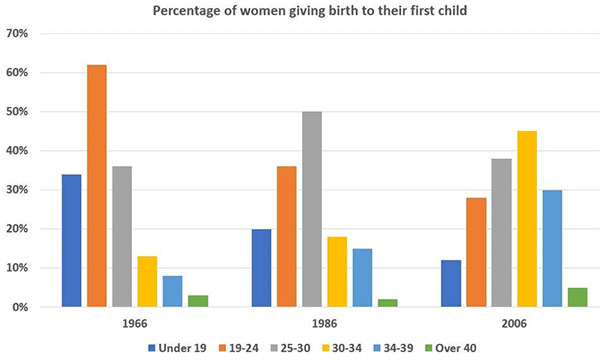 Đề bài: The chart below gives information about the age of women in Australia when they gave birth to their first child in 1966, 1986 and 2006. Summarise the information by selecting and reporting the main features and make comparisons where relevant.
Written by Dương Vũ – writing band 8: https://www.facebook.com/duong5ting
Phân tích đề:
Bar chart có nhiều mốc năm, có % => có thể dùng Line Language & Percentage Language, nhưng bạn cần lưu ý phần trăm ở đây được dựa trên tổng số phụ nữ trong từng độ tuổi, chứ không phải tổng cả 6 nhóm tuổi. Đề cũng chỉ cho số liệu 3 năm chứ không phải tất cả các năm từ 1986 – 2006 như Line nên bạn cẩn trọng khi phân tích. (Các bài mẫu khác trên mạng hiểu sai đề này rất nhiều)
Xu hướng: – Tuổi sinh con đầu lòng của phụ nữ Úc có xu hướng tăng qua 3 năm. Tỉ lệ ở các nhóm tuổi trẻ giảm, ở nhóm tuổi cao tăng
phân tích riêng năm đầu 1966: cao – thấp
Phân tích mức độ tăng giảm nổi bật cho tới năm 2006 (sau 40 năm), đá qua năm 1986 = cách nêu thêm cao nhất năm 1986 + cao nhất năm 2006
Bài mẫu by Duong Vu (writing band 8) 
The chart shows the changes in the age of women at first child birth in Australia at 20-year intervals for the years 1966 to 2006.
It is clear that Australian women increasingly preferred to have their first child later in life over the period shown. The proportions of first-time mothers in older age groups (30 and over) were on the rise while the younger cohorts saw the opposite trend.
In 1966, the most common age at first child birth for Australian women was 19 to 24 (nearly 63%). The youngest cohort and the 25-30 cohort also had relatively high proportions of first time mothers (around 33% each) compared to just slightly over one tenth of the 30-34 age group. Twenty years later, the most common age to have the first child in Australia was 25 to 30, with half of women in this age range delivering their first baby in 1986.
By 2006, however, the percentages of first time mothers in the youngest and second youngest groups declined drastically to roughly 12% and 28% respectively. The highest proportion that year was seen in the 30-34 cohort (around 45%). The second oldest group also saw remarkable increase, reaching 30% whereas the figure for the 25-30 cohort fell back to the 1966 level.
(Written & Copyright by Duong Vu – IDV)