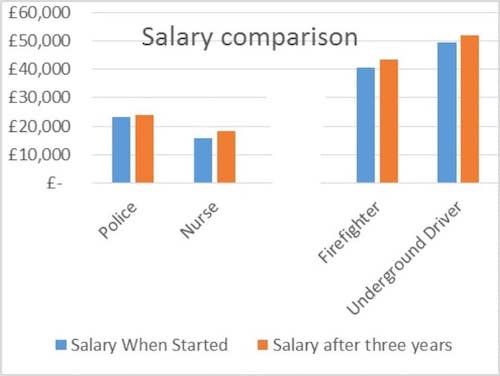 The chart above shows information about various professions in the U.K. and their salaries. The table shows the average working hours per week for each profession
IELTS ESSAY SAMPLE BAND 8.0 – 9.0  FROM IELTS WRITING 8.0 BOOKS BY DUONG VU 8.5 Ielts – 8.0 WRITING (2 lần 2021 – 2023): https://idvielts.com/sach-ielts-writing-by-duong-vu/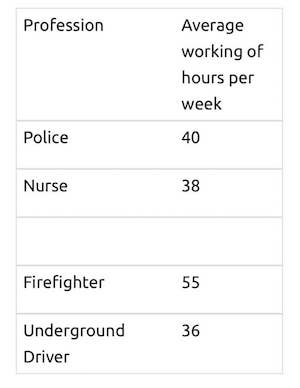 The chart compares the salaries of four occupations in the UK and the table presents their average working hours per week.
It is clear that firefighters and underground drivers get paid more than police officers and nurses. After 3 years of service, the pay rise of police jobs  is less significant than that of the remaining professions. In addition, the occupation with the longest weekly working hours is firefighter and the one with the least average working hours is underground driver.
Specifically, the highest-paying job is underground driver, with a base salary of roughly 50,000 pounds which rises to around 52,000 pounds after 3 years. Firefighters' starting pay is 40,000 pounds and after 3 years of service, their salary increases by approximately 3000 pounds. Interestingly, firefighters work up to 55 hours per week while underground drivers work only 36 hours, and this is the lowest figure.
With regard to the other professions, the lowest-paying job is nurse with a starting pay of nearly 16,000 pounds which increases by over 2000 pounds after 3 years.  Entry police jobs are paid 23,000 pounds and their pay rise after 3 years is marginal. In terms of weekly working hours, police officers work 40 hours  and the figure for nurses is 2 hours less.
FULL ESSAYS theo Actual Tests in IELTS WRITING 8.0 BOOKS + 200 SAMPLES 2 tasks by Dương Vũ 8.5 Ielts  – 8.0 Writing : bộ sách cô đọng, tiết kiệm, hiệu quả cho các bạn tự học bao gồm video bài giảng, hướng dẫn viết luận chi tiết theo dạng bài, bộ ý tưởng & ideas cho 150 topics, cấu trúc ngữ pháp band cao và hàng trăm essay samples CHUẨN band 8.0 – 9.0 đã giúp nhiều bạn đạt 6.5 – 7.0 – 7.5 speaking & writing: https://idvielts.com/sach-ielts-writing-by-duong-vu/
https://idvielts.com/sach-ielts-speaking-duong-vu/
Tặng bạn top Ielts Essay Band 8.5 – 9.0 chuẩn viết bởi cô Dương Vũ 2 lần 8.0 Writing: https://drive.google.com/file/d/1DWGBdvRMZfMvB8BEM5TP0lz47X_6PjU9/view?usp=share_link
KHOÁ HỌC IELTS 6.5, 7.0 , 7.5 , 8.0 UY TÍN với giáo viên 8.5 Ielts: http://idvielts.com/category/courses/
Feedback Ielts 7.0, 7.5, 8.0 từ Học trò của Dương – người học thật – điểm thật 100%: