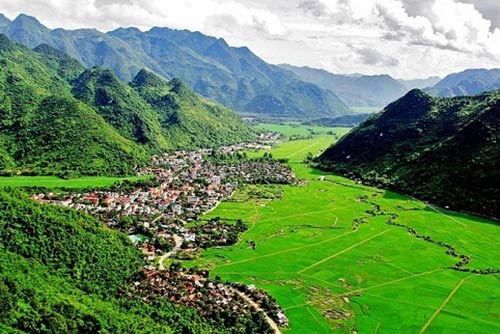 Ielts speaking Part 2 An adventure you had – Sample Band 8 from Ielts Speaking Book by Dương Vũ – Full Sample 3 Parts + Hướng dẫn trả lời chi tiết part 1, 2, 3 : https://idvielts.com/sach-ielts-speaking-duong-vu/
Hướng dẫn chiến lược tìm IDEA trả lời Ielts Speaking đạt điểm cao: https://www.youtube.com/watch?v=rq4oXltoHt0
As a travel enthusiast, I find all trips I've done worthwhile in some ways but there is a special adventure that I treasure with all my heart. It's an inspection trip in Mai Chau I took a couple of years ago while working for a travel company.
Mai Chau is a picturesque valley located in the northwest of Vietnam, roughly 3 hours by car from Hanoi. We headed to Mai Chau in search of off-the-beaten-track destinations for our new tour programs. We wanted to try an unconventional way to reach the valley, not by roads but by trekking through the forest. Our starting point was Thung Khe Pass, the best place to capture a mind-blowing panorama of Mai Chau. The trek was quite heavy as we walked on rocky trails, uphill and downhill, slopes after slopes, some were very steep and required full concentration. Deep into the forest we heard nothing but our own footsteps and soothing sound of running streams. The scenery along the way was spectacular, especially the part we hiked through a virgin bamboo forest. It took my breath away, so luxuriant and so mystical. There was an extraordinary feeling when we went into the wild, following a trail on which few footprints had been left. After 5 hours of strenuous walking, we finally escaped the forest and reached the village where our Thai ethnic host family were waiting for us. We stayed at their stilt house for the night and it was the first time I experienced a homestay. We talked a lot about their traditions and about how sustainable tourism has allowed them to earn a living without having to destroy the forest. The following day, we had a great time learning Thai traditional dancing and weaving.
This journey was exhausting yet extremely rewarding as it encouraged me to stay strong, both physically and mentally. More importantly, it showed me how magnificent the outside world truly is. No modern comfort, no relaxing beaches, no hustle and bustle, just get back to nature and life can be so wonderful.
Mountain pass: đèo
Peak: đỉnh núi
Valley: thung lũng
Slope: con dốc
Stream: dòng suối
Trekking: đi bộ với cường độ mạnh, dài ngày trong vùng rừng núi (hiking nhẹ nhàng hơn)
Hustle and bustle: ồn ào (nơi đô thị)
Off the beaten track: hoang vu, chưa được khám phá
Go into the wild: đi vào vùng rừng núi, thiên nhiên
In search of = to look for/ to find
Have a great/ good time doing ST  = enjoy it
Copyright by Dương Vũ 8.5 Ielts  – IDV Ielts
KHOÁ HỌC IELTS 6.5, 7.0 , 7.5 , 8.0 UY TÍN với giáo viên 8.5 Ielts: http://idvielts.com/category/courses/
FULL ESSAYS theo Actual Tests in IELTS WRITING 8.0 BOOKS + 200 SAMPLES 2 tasks by Dương Vũ 8.5 Ielts  – 8.0 Writing : bộ sách cô đọng, tiết kiệm, hiệu quả cho các bạn tự học bao gồm video bài giảng, hướng dẫn viết luận chi tiết theo dạng bài, bộ ý tưởng & ideas cho 150 topics, cấu trúc ngữ pháp band cao và hàng trăm essay samples CHUẨN band 8.0 – 9.0 đã giúp nhiều bạn đạt 6.5 – 7.0 – 7.5 speaking & writing: https://idvielts.com/sach-ielts-writing-by-duong-vu/
https://idvielts.com/sach-ielts-speaking-duong-vu/
Tặng bạn top Ielts Essay Band 8.5 – 9.0 chuẩn viết bởi cô Dương Vũ 8.5 Ielts 2 lần 8.0 Writing: https://drive.google.com/file/d/1DWGBdvRMZfMvB8BEM5TP0lz47X_6PjU9/view?usp=share_link
Follow facebook Ielts 8.5 Dương Vũ để học từ vựng free và nhiều samples speaking writing band cao hay các bạn nhé
Feedback Ielts 7.0, 7.5, 8.0 từ Học trò của Dương – người học thật – điểm thật 100%: