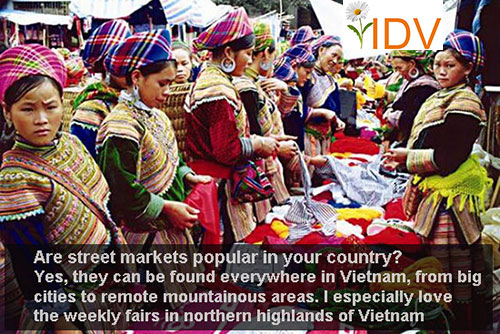 IELTS SPEAKING STREET MARKETS – SHOPPING MALLS TOPIC SAMPLE ANSWERS
Do you like visiting street markets?
I do. From busy streets lined with boutique shops in Hanoi Old Quarter to a weekend bazaar or Hanoi night flower market, I love them all. They attract not only local people but also a great number of tourists.
(Lined with shops: với hàng dãy shop san sát nhau/ bazaar: chợ nhỏ / fair: phiên chợ trong 1 vùng, có cả trò chơi)
Are street markets popular in your country / where you live?
Yes, they can be found everywhere in Vietnam, from big cities to remote mountainous areas. I especially love the weekly fairs in northern highlands of Vietnam where local people still wear their colourful traditional costumes to the markets.
Would you be interested if you saw a street market in a foreign country?
Definitely. When travelling, I always look for places that show me the unique and authentic local culture, not a manifestation of globalization.
(Manifestation of = a sign of ST – dấu hiệu/ biểu trưng của…)
Do people in your country prefer to shop at a street market, or in a shopping mall?
As I see it, urban citizens tend to choose shopping malls because they offer a wider range of goods. People in small towns or in the countryside, however, prefer street markets and open markets, perfect venues for shopping and socializing with neighbours.
Are there many shopping malls in your living area?
Yes, modern shopping malls and supermarkets are mushrooming in my city. The idea of one-stop-shopping seems appealing to a lot of people. There is a big mall just a few steps from my house but I only visit it at the weekend.
(Mushrooming: mọc lên như nấm sau mưa/ one stop shopping: 1 lần mua được rất nhiều thứ/ appealing to SO: hấp dẫn, thu hút ai đó)
(Copywright: Facebook DUONG VU – IDV)
Kinh nghiệm viết luân Ielts Essay 8.0 của Dương: https://idvielts.com/kinh-nghiem-viet-luan-ielts-band-8/
Kinh nghiệm học Ielts Writing 8.0 TASK 1 các bạn đọc ở đây nha: https://idvielts.com/kinh-nghiem-hoc-ielts-writing-task-1-band-8/
Khóa học Ielts Chuyên Sâu 6.5 – 8.0: https://idvielts.com/category/khaigiang/
Follow Dương trên các Facebook sau để học các bài học Ielts 8.0+ hoàn toàn miễn phí và cập nhật nhất các bạn nhé:
https://www.facebook.com/duong5ting/