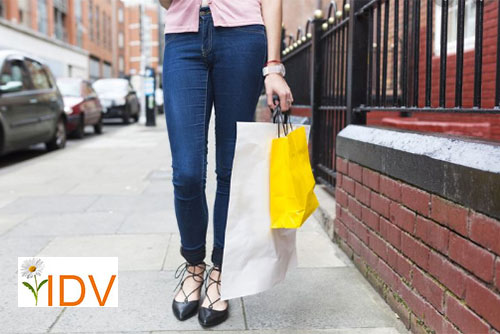 Ielts Speaking Part 1 Topic JEANS (Gợi ý trả lời – ideas cho câu trả lời mẫu: Yes/ No + Diễn giải / lí do)
Do you like wearing jeans?
=> Definitely. I feel super comfortable in them
=> Perfect item for a casual look at school, on the street, or even at work / perfect for someone who is always on the move like me.
=> Jeans: a fashion staple, a must have item, no wardrobe is complete without a pair of jeans
Is there any jeans brand do you prefer?
=> No. when it comes to fashion, brand doesn't matter much to me / just shop around and pick up any high-quality piece that fits me.
Why are jeans so common?
=> Jeans are classic and timeless, always look chic / stay stylish season after season.
– Comfy, sturdy, versatile… Jeans go well with everything from T-shirt to blouses or jackets / Also, there are several styles to choose from: cropped jeans, ripped jeans, skinny jeans, flared jeans and so on.
(By DUONG VU – IDV IELTS)
Kinh nghiệm viết luân Ielts Essay 8.0 của Dương: https://idvielts.com/kinh-nghiem-viet-luan-ielts-band-8/
Kinh nghiệm học Ielts Writing 8.0 TASK 1 các bạn đọc ở đây nha: https://idvielts.com/kinh-nghiem-hoc-ielts-writing-task-1-band-8/
Khóa học Ielts Chuyên Sâu 6.5 – 8.0: https://idvielts.com/category/khaigiang/
Follow Dương trên các Facebook sau để học các bài học Ielts 8.0+ hoàn toàn miễn phí và cập nhật nhất các bạn nhé:
https://www.facebook.com/duong5ting/