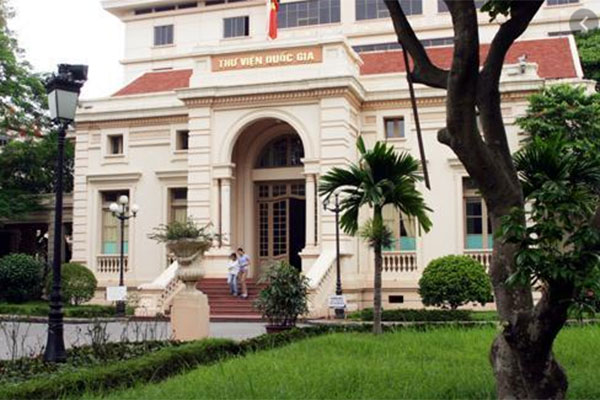 Ielts Speaking Cue card Describe a place to read and write and not your home – Sample answer by DUONG VU Facebook
Well, when I read the topic, the first thing that popped into my head is the National Library of Vietnam. I spent most of my time there during the last year at university and still visit it from time to time now.
What I love the most about this place is its prime location on a charming street in Hanoi Old Quarter. It is just a few-minute walk to Hoan Kiem Lake, making it super convenient for me to enjoy a relaxing stroll whenever I got tired of reading or felt stuck while writing.
Despite being situated in one of the busiest hubs of Hanoi, the library is surprisingly quiet. Passing through its gate, you would feel like stepping into another world where all hustle and bustle are left behind. The entrance path has a lush garden on one side and a parking lot on the other. The library's main hall is spacious and well-equipped with computers for visitors to check book availability.
The library is home to more than 1 million books and thousands of newspapers, magazines and doctoral theses. My favourite part is an open corner on the second floor where I could read anything on shelves without having to register. I didn't always go to the library just to borrow books though. This would be the place to go to when I needed a tranquil atmosphere to find some inspiration for my part-time work as an editor. With a library card, I had access to a free working space. This meant a lot to a struggling student always on a tight budget like me.
IDIOMs: hustle and bustle /  is home to/  mean a lot to someone / on a tight budget
Kinh nghiệm viết luân Ielts WRITING 8.0: https://idvielts.com/kinh-nghiem-viet-luan-ielts-band-8/
Kinh nghiệm học Ielts Writing 8.0 TASK 1 các bạn đọc ở đây nha: https://idvielts.com/kinh-nghiem-hoc-ielts-writing-task-1-band-8/
Khóa học Ielts Chuyên Sâu 6.5 – 8.0: https://idvielts.com/category/khaigiang/
Follow Dương trên các Facebook sau để học các bài học Ielts 8.0+ hoàn toàn miễn phí và cập nhật nhất các bạn nhé:
https://www.facebook.com/duong5ting/