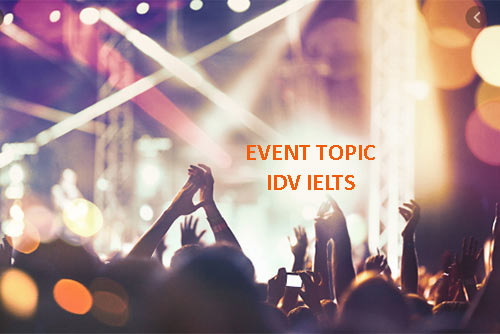 Ielts Speaking Part 3 – Event Topic – Sample Answers band 8.0 by DUONG VU – Ielts Speaking Book Full 3 parts by Duong Vu – IDV: https://www.facebook.com/duong5ting – Learn Ielts Speaking Band 8
Why do people hold events?
Well, the main purpose of holding events is for social life I think. No one can live alone and social gatherings provide a perfect opportunity for people to become closer to others, foster their relationships and expand their networks. Parties and celebrations also allow them to enjoy a fantastic break from their stressful and hectic life. Particularly, family events help build a close-knit bond among its members, which is vital to their well-being.
What are popular personal / public events in Vietnam?
There is a wide range of events in Vietnam now. People would throw up a party to mark important milestones in their life such as birthdays, university graduation, engagements and weddings or any significant achievements they obtain. Businesses usually organize or sponsor events to increase their brand awareness. Besides, there are public events held by the government, including cultural festivals, sports events and public holiday celebrations.
Do Vietnamese people spend a lot of money on events?
I suppose so. With increased standard of living, lavish birthday and wedding parties are now on the rise. These are opportunities for affluent families to show off by pouring money into an extensive menu with sumptuous delicacies. Sadly, most of the food is wasted since people are so busy with ceremonies and talking. For businesses, events are considered an effective marketing tool but they may cost a huge amount of money to hire sound and light equipment, singers, MCs and professional event services.
What are the ads and disads of holding international events?
Well, hosting a major international event might leverage the image of a country on the global stage. Such events are usually covered in mass media worldwide, which draws greater attention to the country and hopefully boosts its economy, especially tourism. However, this could be a complete waste of money if the event is poorly organised and the country fails to leave a positive impression. Also, while the construction of facilities for events like World Cup or Olympics can generate more jobs, they are extremely costly and serve only a short-term purpose, thus resulting in a huge waste.
(Copyright by IDV)
Kinh nghiệm viết luân Ielts WRITING 8.0: https://idvielts.com/kinh-nghiem-viet-luan-ielts-band-8/
Kinh nghiệm học Ielts Writing 8.0 TASK 1 các bạn đọc ở đây nha: https://idvielts.com/kinh-nghiem-hoc-ielts-writing-task-1-band-8/
Khóa học Ielts Chuyên Sâu 6.5 – 8.0: https://idvielts.com/category/khaigiang/
Follow Dương trên các Facebook sau để học các bài học Ielts 8.0+ hoàn toàn miễn phí và cập nhật nhất các bạn nhé:
https://www.facebook.com/duong5ting/