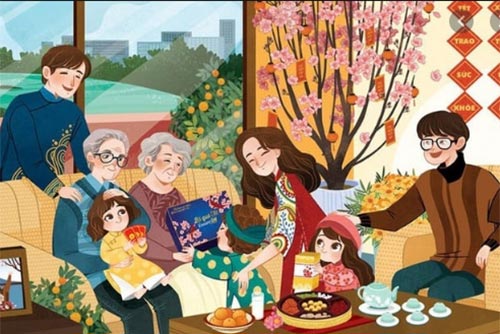 Ielts Speaking Part 1 New Year Celebration – Sample 8.0 -9.0 from Ielts Speaking Book by Duong Vu –  Sách tự học Ielts Speaking hướng dẫn chi tiết cách trả lời, ý tưởng, kèm câu trả lời mẫu BAND CAO, click here
Do you like New Year holiday?
When I was little I would feel over the moon when Lunar New Year or Tet was around the corner. Now that I've grown up, I no longer look forward to it with over excitement but I still love it. This is mainly because Tet holiday offers me a rare opportunity to break from my hectic schedule for a while.
What was the happiest New Year Holiday you've had? (when I was 3 or 4 years old/ reason: got plenty of lucky money. Now that I've grown up, I have to give the money to my nephews and nieces, which makes me feel so frustrated…
 What did you do on the last New Year Holiday?
Well, as usual I spent the last two days of the old year cleaning, planting new pots of flowers, decorating our home and preparing foods for our family gathering. On the first day of the lunar new year, I escorted my Mom to the local pagoda in early morning and then the lengthy series of paying a visit to our relatives started. There was nothing special really.
Have you made a New Year resolution? (Yes, I have. Writing something on the first day of a new year is one of our most crucial traditions which is said to bring luck and fortune. Last year, I jotted down quite a long list of goals I had set my mind to but I failed to stick to them. I guess I should make more attainable resolutions next year.
How do people celebrate New Year holiday in Vietnam?
We now tend to focus more on relaxation and leisure activities than on practicing traditions and customs. Of course, they are still an integral part of Tet celebrations but we somehow modify or simplify them to suit our modern lifestyle. For example, after the main family reunion on the first day of Tet, some may choose to travel abroad or to other cities to chill out instead of continuing the endless social gatherings.
Are New Year celebrations important?
Well, they are definitely a distinctive and probable the most intriguing part of different cultures across the globe and should be preserved for the next generations. Besides, New Year holiday also makes a perfect chance for us to reunite and rejuvenate, which is essential to a healthy and fulfilling life.