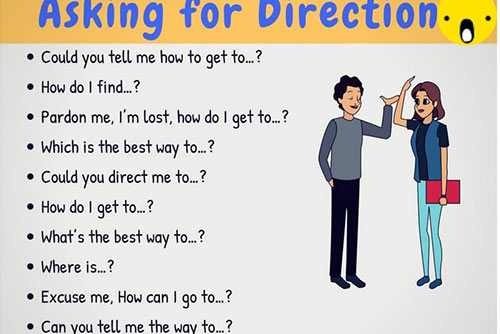 Ielts Speaking Cue Card A time you got lost – Sample Answer from Ielts Speaking Book by Duong Vu: https://www.facebook.com/duong5ting
Đây là đề mới trong Ielts Speaking Forecast Quý 2 2020
Well, I'm the type of person who can easily get lost even in just a tiny little town. I struggle with finding ways in unfamiliar places all the time. So, let me tell you about the most recent time I got lost.
A couple of months ago, I took a trip to Hoi An, an ancient town in Central Vietnam. It has been recognized as a UNESCO World Heritage Site and that's why I was dying to set my foot on it. The town has something for everyone: glorious history, stunning architecture, amazing food and picturesque landscape. I felt like going back in time while strolling around its atmospheric streets filled with charming historical buildings. I wrapped up my first day in Hoi An with a fabulous meal in a cozy restaurant filled with candle-lit lanterns.
On the second day, I rented a bicycle and rode to the nearby beach which is roughly 7 kilometres away. My friend had told me to be careful as the roads were bumpy and narrow at the time of her visit. I therefore decided to take the new route. There were quite a lot of signs on the roads so I had no problem reaching the seaside town. However, on the way back to my hotel, I took the wrong turn and got lost. I didn't recognize at first but the further I went, the more unfamiliar the scenery along the road became and I got frustrated. I remembered not seeing any rice fields earlier but now I even saw buffaloes, winding rivers and quaint villages. I sensed something wrong and asked a local farmer for directions. He told me I should have taken the second turn on the left, not the first one. I had no idea how I could forget such a simple thing. However, this was the first time I realized getting lost can actually be a blessing in disguise. It turned out I had a fantastic off- the- beaten- track journey in the countryside, a truly rewarding experience.
IDIOMS: go back in time/ have no idea / have no problem doing ST / off the beaten track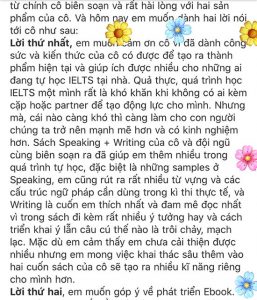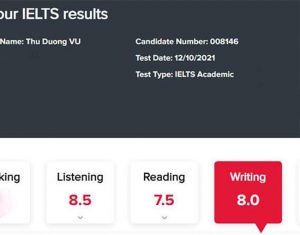 Kinh nghiệm viết luân Ielts WRITING 8.0: https://idvielts.com/kinh-nghiem-viet-luan-ielts-band-8/
Kinh nghiệm học Ielts Writing 8.0 TASK 1 các bạn đọc ở đây nha: https://idvielts.com/kinh-nghiem-hoc-ielts-writing-task-1-band-8/
Khóa học Ielts Chuyên Sâu 6.5 – 8.0: https://idvielts.com/category/khaigiang/
Follow Dương trên các Facebook sau để học các bài học Ielts 8.0+ hoàn toàn miễn phí và cập nhật nhất các bạn nhé:
https://www.facebook.com/duong5ting/