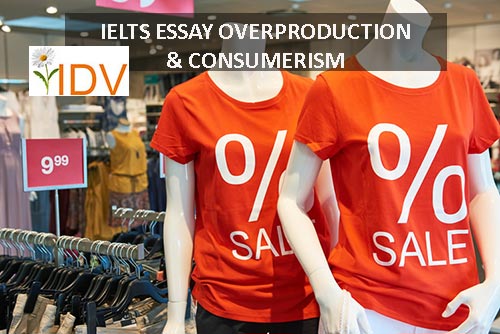 Task 2: An increase in the production of consumer goods results in the damage to the natural environment.
Why is this case?
What can be done to reduce the problem?
Dàn ý bài mẫu: (Gợi ý ideas là chính nhé)
WHY DAMAGE: ENVIRONMENTAL POLLUTION & NATURAL RESOURCE DEPLETION
– Increased production activities lead to more pollutant emissions (burning fossil fuels to generate enough electricity needed for manufacturing)
– Production increase means greater volume of industrial waste is being generated. Domestic waste is also increasing drastically due to excessive production of short-lived or disposable items. Consumerism encourages people to buy more products, most of which are rarely used and end up in landfill or oceans, gradually deteriorating the ecological system.
– Natural resources are being consumed at an alarming rate: forest, land, water, ore, energy (oil, coal, natural gas) / deforestation (forests are being cleared for timber or land to build factories or for intensive farming programs)
SOLUTION
Government:
Impose strict regulations on new factories building & encourage green production practices
Launch media campaigns to raise public awareness on this issue and promote a more sustainable lifestyle.
Individuals: It is obvious that individuals should take initiatives to stop over-consumption and reduce their ecological footprint. Less consumption & demand results in less production & supply
Examples: avoid impulsive buying (buy only what is needed), reduce materialistic possessions and increase recycling/ repairing