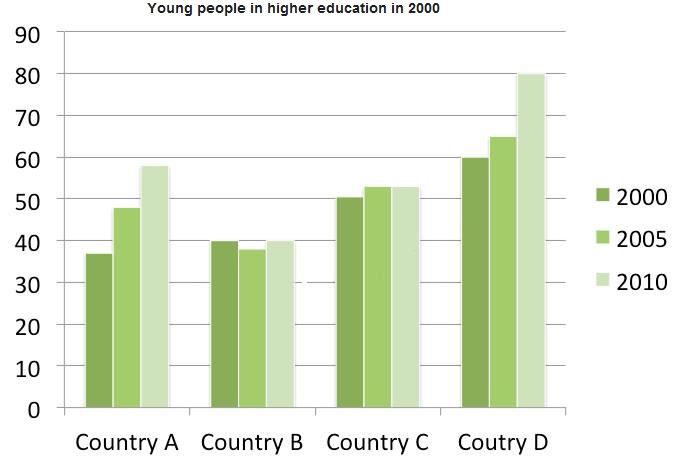 Bốn dạng này của Ielts Writing Task 1: Bar, Line, Pie, Table cộng thêm luôn cả dạng Mixed Chart kết hợp 2 trong 4 dạng trên thường thì đa số các đề đều vừa có Trend (nhiều mốc time) vừa có nhiều đối tượng (items). Điều đó có nghĩa là các bạn cần nắm vững và dùng thạo cả ngôn ngữ tả xu hướng (Trend) và ngôn ngữ so sánh giống khá, hơn, nhất giữa các đối tượng (Difference). Trong bài này Dương sẽ hướng dẫn các bạn cách viết câu so sánh và một số cụm điểm ngôn ngữ đặc biệt khác của task 1 dạng biểu đồ số liệu – bài giảng trích từ sách IELTS WRITING TASK 1 – Combo sach IELTS BY DƯƠNG VŨ, click here
CÂU SO SÁNH CHUNG:
Nearly 100% of Canadians used the Internet, compared to about 80% of Americans and only 40% of Mexicans.
Canada had the largest proportion of Internet users (99%), followed by the United State at 80%.
South America ranks fourth in terms of forest coverage.
CÂU SO SÁNH NHẤT
By 2009, the percentage of Internet users was highest in Canada.
The Los Angeles network is the newest, having opened in 2001, while the Kyoto network is the smallest.
Of the six items, consumers spent the most/ the least money on camera.
Despite chicken being the least preferred meat, the amount of chicken eaten increased steadily over the period.
The biggest overall decrease in preference was walking, falling from 45% to 20%.
The most significant difference between the two sexes in any one age group was in the youngest group where…
Overall, France saw by far the highest level of spending on the two products.
The second largest railway system, in Paris, is only about half the size of London underground.
CÂU SO SÁNH HƠN VÀ NGANG BẰNG:
The figures for spending on toys in France and Italy were the same, at nearly $160,000.
By 2004, computer sales rose to 9 million dollars, and this was over three times higher than sales figures for camera.
Remarkably, Asia's forest is only around half of Africa's but the former has twice as much timber as the latter.
South America ranks fourth in terms of forest coverage but it accounts for the second largest proportion of timber.
The forest area of Africa is four times larger than that of Latin America.
CÁCH CHÈN SỐ LIỆU VÀO CÂU 
Dùng To Be: In 2001, the proportion of people using the Internet in the USA was about 20%, and this was the highest in 3 countries.
Respectively: The figures for Canada and Mexico were lower, at about 10% and 5% respectively.
Dùng ngoặc đơn hoặc at: (…) / , AT …: The percentage of Internet users in America (80%) was far higher than that of Mexico, at 60%.Which/ and this: The percentage of Internet users in America was 80%, which (and this) was significantly larger than the figure for Canada.
Compared to: By 2009, almost 100% of Canadians used the Internet compared to about 80% of Americans. (followed by)
With: Company A experienced the most dramatic growth, with sales reaching 100 billion dollars in 2001
CÁCH VIẾT CÂU DẠNG PIE CHART:
DẠNG CÓ ĐỦ 100% (PIE CHART)
X made up the largest proportion of the school's spending in 2000
X made up/ represented/ constituted / accounted for…%, and this was three times larger than the proportion of Y.
X accounted for the largest percentage/ share (…%), followed by Y at…%
DẠNG TABLE, BAR, LINE CÓ % thường chỉ dùng so sánh mà không dùng Made up/ Accounted for…:
The percentage / proportion of … was highest/ lowest in (country A), at …%
(Country B) had the lowest percentage of …, at …% and country C had a slightly higher figure, at …%
CÁCH DIỄN ĐẠT NHÓM TUỔI TRONG TASK 1:
Age range/ age bracket / age distribution by gender
People/ Those who are 15 to 29 years old
People aged from 15 to 29 (those aged between 15 and 29)
15-to-29-year-olds / over-60s
The 15-to-29-year-old group / the 15-to-29 group
The cohort aged (from) 15 to 29
People aged under 30/ Those under 30/ those over 60
The population aged 65 plus / people aged 65 and above
In their 20s (21-29) / In their early 20s (20-23) / In their late 20s (28, 29)
The youngest/ oldest group – the second youngest group
CÁCH DIỄN ĐẠT DẠNG SURVEY
Under 10% of the respondents thought the service was bad
As for shopping, 20% expressed approval (satisfaction) and 25% said that it was average
Only a half of those surveyed gave a high score to transport and roughly a third stated that it was bad
75% of those asked (questioned) expressed satisfaction with employment situation while approval of transport fell to …
37% of the women questioned felt that / replied that/ held the view that …
The majority of both sexes taking part in the survey/ research considered ST to be (adj)