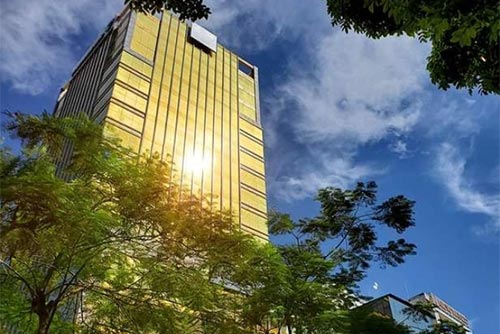 A tall building you like or dislike – 
Sample Band 8 by Sách Ielts Speaking 8.0 Dương Vũ Full Sample 3 Parts + Hướng dẫn trả lời chi tiết part 1, 2, 3 update 2021 topics giúp bạn tự học speaking hiệu quả nhất: https://idvielts.com/sach-ielts-speaking-duong-vu/
Hướng dẫn chiến lược trả lời Ielts Speaking Part 3 đạt điểm cao: https://www.youtube.com/watch?v=rq4oXltoHt0
A tall building là topic part 2 mới của bộ đề Ielts Speaking Forecast quý 2 2021 nên sẽ tiếp tục thi trong bộ đề Ielts Speaking Forecast quý 3 2021 các bạn nhé.
There are countless skyscrapers in Hanoi and to be honest, I've never really paid attention to them because they all look dull and uninspiring. So let me just tell you about the one I detest the most in my neighbourhood.
It's a 20-storey building owned by Vietcombank corporation, one of the largest banks in Vietnam. To accommodate the sheer volume of their staff, all their major branches are high-rise buildings. I have absolutely no idea how they have been a market leader and making insane profit despite charging the highest fees and interests compared to other banks. 
Anyway, coming back to the main point of why I dislike their business premises. This is mainly because they use golden glass doors that look ostentatious and unpleasing. The colour might make their office building noticeable from afar but at the same time irritate people's eyes, especially during scorching summer days.
If there was a local contest for the ugliest building in town, I'm sure this one would secure the first place. It's such a shame that the architect hadn't thought of incorporating green space into the building while the company's logo is in green colour. If he had designed with nature in mind, the building would be a celebrated landmark now.