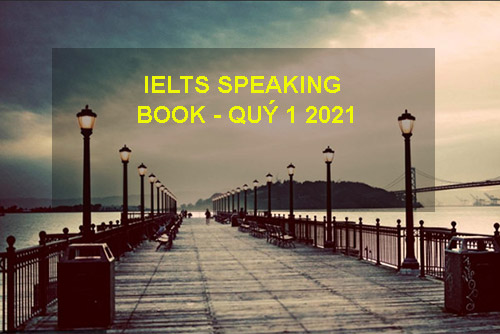 Việc thực hành theo report đề sẽ giúp các bạn làm quen với format và các tình huống thực tế khi đi thi Ielts Speaking đễ không bỡ ngõ hay hồi hộp khi vào phòng thị. Hãy thực hành đều đặn và ghi âm lại để sửa nhé, chỉ cần chú tâm một chút, bạn hoàn toàn có thể tự làm giám khảo cho mình, tự học, tự sửa và tiến bộ. File tổng hợp report ielts speaking actual test 2021 (quý 1), các bạn nhấn vào link dưới để tải nha:
REPORT DE THI IELTS SPEAKING QUY 1 2021
Chúc bạn học, thi tốt và đạt được mục tiêu nghề nghiệp hay mơ ước của mình.
20/2 IDP Mạc Đĩnh Chi
Writing
Task 1: bar chart
Task 2: Many people believe that children should do organized activities in their free time, while others claim that children can choose what they want to do. Discuss both views and give your opinion.
Speaking
Part 1: Topic house, view from window, Vietnam
Part 2: Describe an occasion when you ate something for the first time.
Part 3: Do you belive in food show or advertisement about food on tv
Which group of people prefer to try new food, older of younger. Why
Còn câu nữa đại loại là quảng cáo về đồ ăn trên tv có đáng tin cậy không
Speaking mà mình vừa thi. 19/2/2020
Part 1:
Work:
What do you do to earn a living?
Why did you choose this job?
What is the most difficult of your job?
Will you stay engaged at your current company?
Your country:
Why do you live in the city?
What was the difficulty of your country in the past?
What thing you proud most about your country?
Will you live in your country in the future?
Remember a person's name:
Why people's today do not remember other people's name?
Is remembering one's name important?
How do you feel if a person forgets your name?
What should you do to remember one's name?
Part 2:
A time you waited in  a line or queue
Part 3:
Why people's nowadays are not in line?
What should be taken to deal with that problem?
What measures could be done for shops or restaurants to make it faster (people take much time in long line)?
Do you think customer services are important?
What could be implemented for companies enhance customer services?
Mình xin review đề Speaking ngày 21/02 tại BC Cách Mạng Tháng 8.
Part 1:
Bạn có thích nơi bạn đang sống ko?
Nơi bạn đang sống có nhiều người ở ko?
Nơi bạn sống có phù hợp với những gia đình có trẻ em không?
Bạn đã từng chơi môn thể thao nào chưa?
Bạn có từng cổ vũ cho 1 đội thể thao nào chưa?
Bạn có thấy có quá nhiều môn thể thao được chiếu trên TV ở nước bạn không?
Part 2: Describe an area of sience that you feel interesting
Part 3:
Các môn học về sience có phổ biến trong trường học không?
Các museum có ích trong việc học sience ko?
Ở nước bạn có nhiều museum về sience ko?
Có quan trọng không khi student giỏi về sience?
Bạn có nghĩ student hiện nay thích sience?
Trong cuộc sống hằng ngày sience ảnh hưởng ntn?
Con người hiện nay có thể sống thiếu technology?
Chúc mọi người thi tốt và đạt target mong muốn.