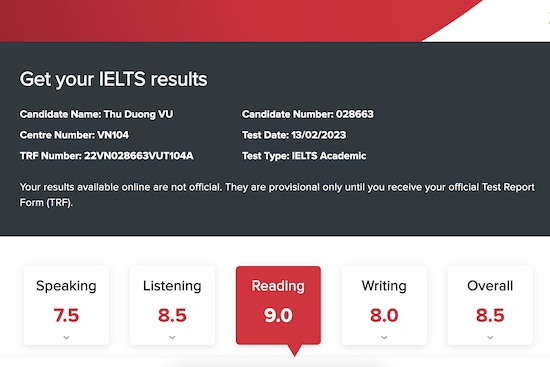 The given charts show the responses of undergraduate and postgraduate students to a questionnaire about a university library. Summarise the information by selecting and reporting the main features and make comparisons where relevant.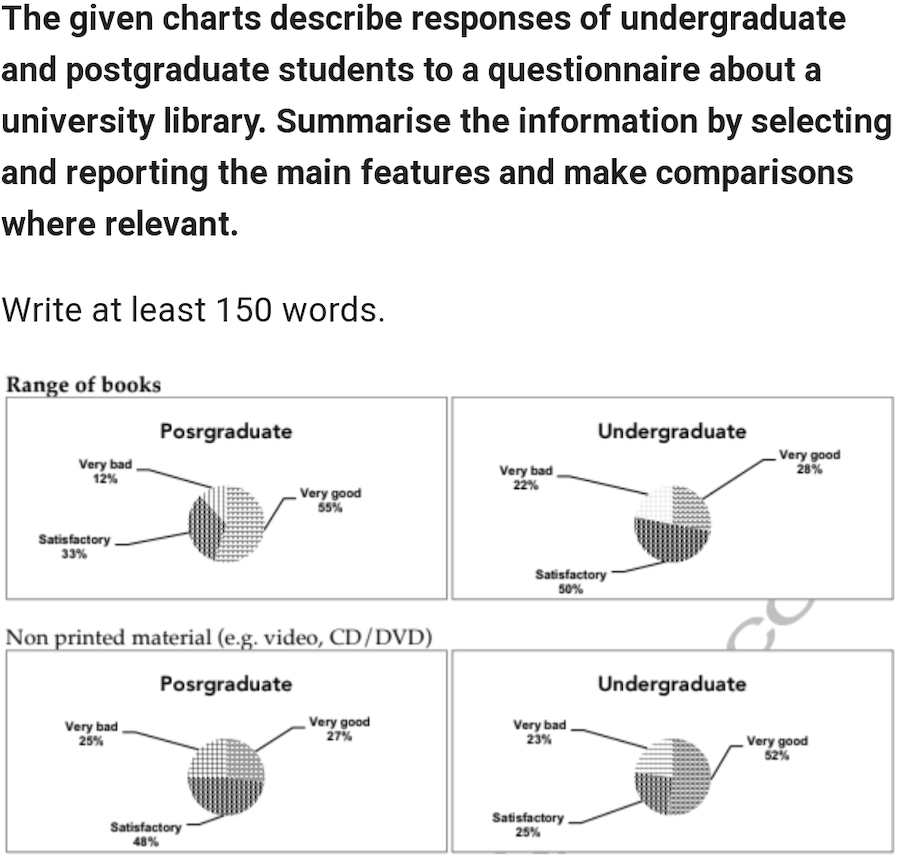 IELTS ESSAY SAMPLE BAND 8.0 – 9.0  FROM IELTS WRITING 8.0 BOOKS BY DUONG VU 8.5 Ielts – 8.0 WRITING (2 lần 2021 – 2023): https://idvielts.com/sach-ielts-writing-by-duong-vu/
The charts illustrate the feedback of undergraduates and postgraduates about a university library in terms of its book range and non-print materials. 
It is clear that postgraduate students are more satisfied with the library's range of books than their undergraduate counterparts. The latter, however, are more happy with its non-printed materials than the former.
In terms of book range, 55% of postgraduates rated it as excellent while a third said it was decent. Slightly over 10% of them considered it to be poor compared to 22% of undergraduates. The proportion of undergraduate students rating it as very good and acceptable was 28% and a half respectively.
Regarding non-printed materials, nearly half the postgraduates said they were satisfactory whereas around 1 in four of them was either dissatisfied or extremely satisfied with these materials. In contrast, most undergraduates rated them as excellent (52%). Around a quarter of these students stated that its non-print resources were poor or just good enough.
Copyright by Duong Vu – IDV Ielts
FULL ESSAY in IELTS WRITING 8.0 BOOKS + 200 SAMPLES 2 tasks by Dương Vũ 8.5 Ielts  – 8.0 Writing : bộ sách cô đọng, tiết kiệm, hiệu quả cho các bạn tự học bao gồm video bài giảng, hướng dẫn viết luận chi tiết theo dạng bài, bộ ý tưởng & ideas cho 150 topics, cấu trúc ngữ pháp band cao và hàng trăm essay samples CHUẨN band 8.0 – 9.0 đã giúp nhiều bạn đạt 6.5 – 7.0 – 7.5 speaking & writing: https://idvielts.com/sach-ielts-writing-by-duong-vu/
https://idvielts.com/sach-ielts-speaking-duong-vu/
Tặng bạn top Ielts Essay Band 8.5 – 9.0 chuẩn viết bởi cô Dương Vũ 2 lần 8.0 Writing: https://drive.google.com/file/d/1DWGBdvRMZfMvB8BEM5TP0lz47X_6PjU9/view?usp=share_link
KHOÁ HỌC IELTS 6.5, 7.0 , 7.5 , 8.0 UY TÍN với giáo viên 8.5 Ielts: http://idvielts.com/category/courses/
Feedback Ielts 7.0, 7.5, 8.0 từ Học trò của Dương – người học thật – điểm thật 100%: