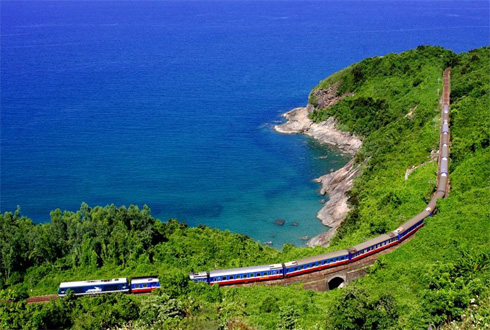 Đề này vẫn được chuyển sang Ielts Speaking Forecast Quý 2 2020 – Bộ Đề Dự Đoán Ielts Speaking Quý 2 2020
Ielts Speaking part 2 – Câu Trả lời mẫu Topic An enjoyable journey you made by public transport (trong
– Sample Band 8 from Ielts Speaking Book by Dương Vũ – Full Sample 3 Parts + Hướng dẫn trả lời chi tiết part 1, 2, 3 : https://idvielts.com/sach-ielts-speaking-duong-vu/
Hướng dẫn chiến lược tìm IDEA trả lời Ielts Speaking đạt điểm cao: https://www.youtube.com/watch?v=rq4oXltoHt0
Well, I used to travel by bus but I've never been a fan of it. I do love train though. There was a trip by train I took a couple of years ago, which I found truly intriguing and enjoyable. Let me tell you about it.
That summer, my closest friend and I decided to travel to Hoian Ancient Town, a popular destination for holiday makers in Danang province, Central Vietnam. We couldn't afford a flight and train seemed the most appealing option. To save a hotel bill, we booked an express night train from Hanoi to Danang which took around 10 hours in total. Our tickets were AC soft sleeper, the most expensive class. We had our own berths in an air-conditioned compartment which we shared with 2 other travellers from Denmark. The bed was tiny, mattress a bit hard and blankets looked worn but I ended up sleeping like a log. Early morning the next day, there was an announcement for those who got down at Hue, an old imperial city. I felt sorry for them as the section between Hue and Danang turned out to be the most incredible part of the trip. I couldn't take my eyes off the stunning scenery as the train slowly snaked its way up the Hai Van Pass, literally meaning the Ocean Cloud Pass in Vietnamese. I can't think of a better name. Through the train window, I could enjoy spectacular views of lush mountains, blue sea, and amazing sky with white clouds. The view just took my breath away.
All in all, it was a fantastic journey that changed my opinion of public transport. I had a wonderful time on the classic north to south Unification Express train of Vietnam.
Kinh nghiệm viết luân Ielts WRITING 8.0: https://idvielts.com/kinh-nghiem-viet-luan-ielts-band-8/
Kinh nghiệm học Ielts Writing 8.0 TASK 1 các bạn đọc ở đây nha: https://idvielts.com/kinh-nghiem-hoc-ielts-writing-task-1-band-8/
Khóa học Ielts Chuyên Sâu 6.5 – 8.0: https://idvielts.com/category/khaigiang/
Follow Dương trên các Facebook sau để học các bài học Ielts 8.0+ hoàn toàn miễn phí và cập nhật nhất các bạn nhé:
https://www.facebook.com/duong5ting/
https://www.facebook.com/idvielts