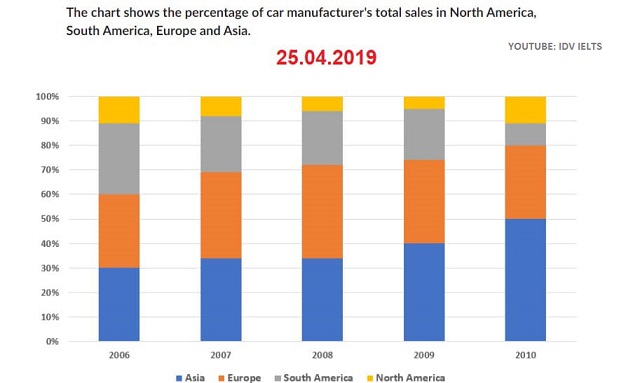 Bài giảng dưới đây là một phần trong Sách Ielts Writing Task 1 by Dương Vũ 8.0 Writing – Copyright by IDV IELTS.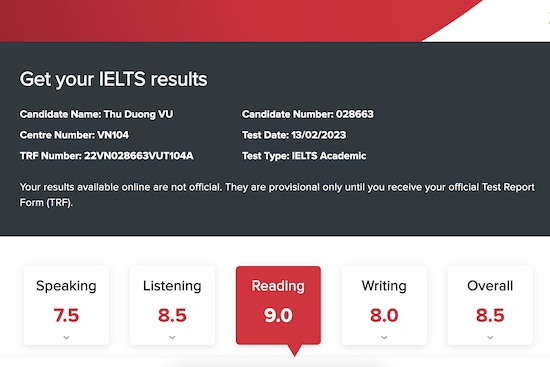 Hướng dẫn chung về dạng Bar Chart
Nếu là biểu đồ động (nhiều mốc time) hãy nêu xu hướng của các đường/đối tượng bằng cách nhìn vào điểm đầu và điểm cuối hoặc so chiều cao các cột (gộp chung các đối tượng cùng xu hướng/ quy luật vào để viết câu). Nên viết 2 câu với từ nối như By contrast, However, In addition
Nếu là biểu đồ tĩnh, hãy nêu quy luật giống và khác, item cao nhất, thấp nhất
Overview không nên nêu 1 điểm cao nhất hay thấp nhất mà ưu tiên nêu cả Item lớn nhất (đối tượng luôn có dữ liệu cao nhất, chiếm ưu thế hoặc nhỏ nhất, ví dụ nếu là Line thì sẽ là đường trên cùng, dưới cùng)
Không nên viết thân bài chỉ 1 đoạn. Ưu tiên gộp và so sánh các đối tượng dữ liệu hoặc giai đoạn thành 2 nhóm/ 2 giai đoạn chính để viết 2 đoạn (nhóm nhỏ nhóm lớn, nhóm tăng, giảm…nếu đề có 2 dạng biểu đồ mỗi đoạn 1 dạng và phân tích khái quát thôi
Nếu bài có nhiều số liệu chỉ chọn lọc phân tích 6 -7 cái nổi bật nhất, những cái giúp minh họa cho Overview. Nguyên tắc: Cao ,Thấp, Duy, Không, Giống, Thứ = Cao nhất (con số cao nhất, mức tăng cao nhất – Thấp nhất – Duy nhất (có xu hướng/ đặc điểm khác hẳn những cái còn lại) – Không thay đổi – Giống nhau (những cái giống nhớ viết gộp lại cho đỡ lặp)  – Xếp Thứ hạng (cao, thấp hơn nhau bao nhiêu/ mấy lần…)
Dưới đây là các bài mẫu band 8 – 9 cho dạng Bar Chart, các bạn tham khảo cách viết, từ vựng và cấu trúc câu nhé
BAR CHART CAR SALES BY REGION (Bài có cả Trend + Difference: vừa xu hướng, vừa so sánh các item)
(so sánh độ dài các cột cùng màu là ra trend liền: gộp các năm thành trend, KHÔNG phân tích rời từng năm một vì dài dòng và không khoa học, sample dưới phân tích theo 2 năm, bạn cũng có thể phân tích theo nhóm lớn Asia + Europe và nhóm nhỏ: 2 vùng còn lại)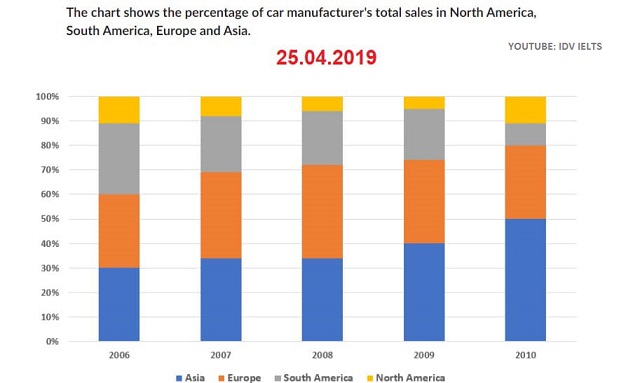 The chart shows changes in the shares of a car manufacturer's sales in four regions (North America, South America, Europe and Asia) between 2006 and 2010.
It is clear that the proportion of Asia sales was on the rise while that of the other markets either declined or fluctuated over the period shown. In addition, Asia and Europe remained the company's major markets throughout the years.
In 2006, North America represented just slightly over *one tenth of the total sales while three other regions made up significant proportions, at roughly 30% each. Two years later, the percentages of North America and South America dropped substantially to around 6% and 20% respectively. By contrast, sales in Europe reached a peak at 38%, making this region the largest market for two consecutive years (2007 – 2008).
Over the following two years, however, Asia overtook Europe as the company's principal market, contributing up to half of its turnover in 2010. North America also regained its significance whereas South America's sales plummeted to around 8% only, the lowest proportion that year. (*Xem cấu trúc viết dạng phần trăm trong SLIDE BÀI GIẢNG. The percentage = the share = the proportion / Quy phần trăm về phân số cho đỡ lặp từ)
BAR CHART CINEMA VISIT UK (chia theo 2 giai đoạn 2003 – 2005 và 2005 – 2007)
(các bạn cũng có thể chia theo 2 nhóm ngày đông người xem và nhóm ngày ít người xem)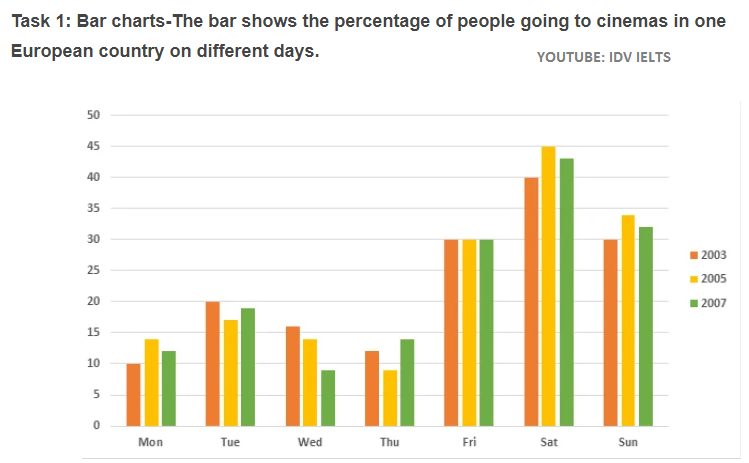 The chart compares the proportions of cinema-goers on different days of the week (Monday to Sunday) in one European country in 3 different years (2003, 2005 and 2007).
It is clear that the percentage of people going to the cinema on Friday, Saturday or Sunday was significantly higher than that on any other days (Monday to Thursday) during the period shown. In addition, most people went out for a film on Saturday, making it the busiest day of the week for cinemas throughout the years.
In 2003, only one tenth of the country's population went to the cinema on Monday compared to 40% on Saturday and 30% on either Friday or Sunday. By 2005, Thursday became the least preferred day to enjoy this leisure activity, with less than 10% of the people doing so. By contrast, the figures for Saturday and Sunday both hit a high of roughly 45% and 34% respectively.
In 2007, however, only Tuesday and Thursday saw an increase in the proportion of cinemagoers, with the latter experiencing a more sizable gain (5%). Particularly, the figure for Friday remained unchanged throughout the three years.
(Các bạn có thể thấy Dương hay dùng mệnh đề V-ing bổ nghĩa cho 1 danh từ hoặc cho 1 mệnh đề S + V ở trước, nhất là với "with" để đưa ra dữ liệu. Dùng the first/ the former và the latter để thay thế cho 2 cái được nhắc đến trước giúp đỡ lặp từ và kết dính câu rất tốt)
BAR CHART AVERAGE CLASS SIZE (chia theo 2 nhóm trong đề: Primary + Secondary)
(Dạng có so sánh với mức trung bình cho vùng, miền, toàn cầu, bạn cần chỉ ra những cái nào cao hơn/ thấp hơn mức trung bình đó)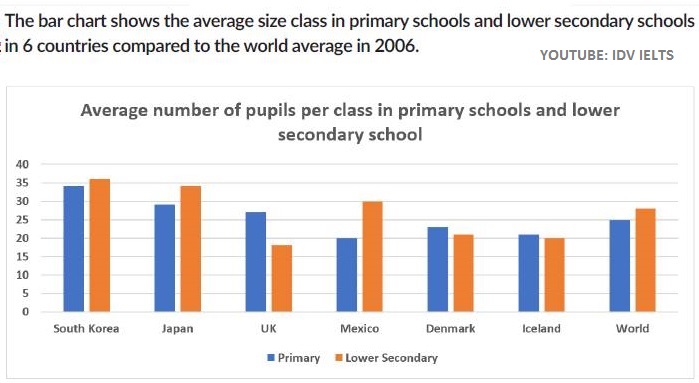 The chart illustrates the average class size in elementary and junior secondary schools of 6 different countries in comparison with the global average in 2006.
It is clear that in either stage of basic education, the number of students per class in the two Asian countries was significantly higher than the global average while that of either Nordic country was always lower. Noticeably, Mexico and the UK organised the smallest class size for primary schools and lower secondary schools respectively.
In terms of elementary education, schools in South Korea had the largest average class size, at 34 pupils, followed by Japan (29) and the UK (27). By contrast, the typical sizes of primary classes in Mexico, Denmark and Iceland were all below the global average (25). Particularly, Mexico had the lowest figure with only 20 pupils per class.
With regard to lower secondary education, average class sizes in Mexico and the two Asian countries were above the world's average (28) whereas Denmark and Iceland had significantly smaller classes, at around 20 students on average. The UK organized the smallest class size for this education level, with only 18 students per class.
(Bài này trong đề có sẵn 2 Categories nên phân tích theo từng cấp học đó/ In đậm là cụm từ hay hoặc cách paraphrase/ referencing nên dùng – Copyright by Dương Vũ IDV Ielts)
BAR CHART COMPUTER USE BY GENDER
(Bài này chia thân bài theo 2 giới hay 2 mục đích sử dụng đều được, nhưng cách thứ 2 tốt hơn vì mục đích của đề yêu cầu bạn sánh việc dùng máy tính của 2 giới)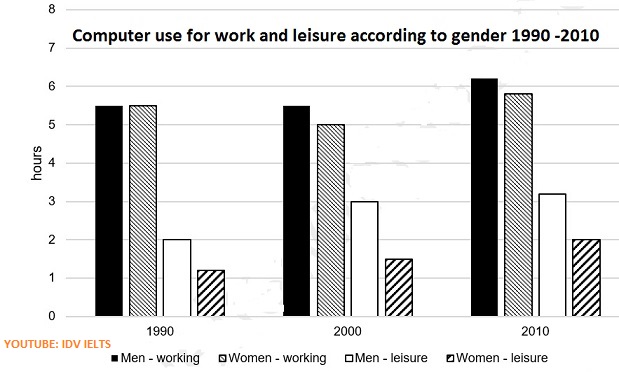 The chart compares the amount of time males and females used computers for work and relaxation in three different years (1990, 2000 and 2010).
It is clear that the number of hours both sexes spent on the computer for either purpose rose over the period shown. Remarkably, men used the device for leisure far more often than women in all 3 years.
In terms of professional purpose, both sexes spent almost equal amount of time working on the computer in 1990, at approximately 5.5 hours per day. By 2000, men worked on this device for the same number of hours daily while the figure for women dropped by half an hour. Ten years later, males and females spent considerably more time using the device for work, up to around 6.2 hours and 5.8 hours a day respectively.
With regard to leisure purpose, men spent almost twice as much spare time on the computer as women in 2000, at 3 hours and 1.5 hours per day respectively, and this was the largest difference in 3 years. By 2010, however, women used the device for recreation more often, a marked increase of half an hour daily, whereas men only saw a marginal rise of roughly 6 minutes.
BAR EXPORTS OF SOUTHLAND (có cả số liệu dự đoán cho tương lai: is predicted/ estimated to…)
(Chia thành 2 đoạn thân bài: 1 đoạn quá khứ, 1 đoạn tương lai)
The chart shows data about export earnings of 3 major exporting industries in Southland in 2000 and 2010, and projections for 2025.
It is clear that export turnovers of inbound tourism and dairy products are expected to grow over the period shown while that of livestock products is likely to decline. Tourism will remain the country's top export by 2025 in terms of dollar value.
In 2000, export earnings from international tourism was highest, at roughly 8 billion pounds, followed by dairy products (7 billion pounds). By 2010, the latter reached a peak at 10 billion, overtaking dairy industry whose export value rose by just around 1 billion. By contrast, meat exports dropped by half a billion and remained the third largest export earner.
By 2025, inbound tourism will continue its upward trend and regain its position as Southland's largest export generating 10 billion pounds for the country.  Conversely, the other two sectors are predicted to experience a decline of approximately 500 million pounds in their respective export earnings.
BAR FREE TIME UK BY GENDER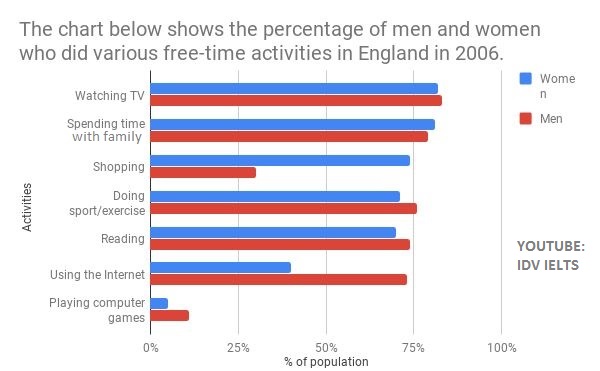 (Bài dưới thân bài chia hai đoạn tương ứng ý của Overview, các bạn cũng có thể chia thành: nhóm các hoạt động mà 2 giới tham gia tương đương nhau và nhóm các hoạt động có mức độ tham gia của 2 giới khác biệt hẳn nhau, như thế cũng sẽ khoa học, logic)
The chart compares the popularity of various pastimes among men and women in England in 2006.
Overall, watching TV and spending time with family were the most popular leisure activities while playing computer games was the least favoured by both males and females that year. In addition, shopping and using the Internet saw the most striking differences in preference level of the two genders.
More specifically, the majority of men or women in England (around 80%) preferred to watch TV or spend time with their family during their free time. Conversely, only 5% of females and slightly over 10% of the opposite gender enjoyed playing digital games.
Noticeably, sports and reading saw similar levels of preference by each gender, with approximately 70% of females and 75% of males practicing these hobbies. By contrast, the proportion of women who enjoyed shopping was more than double that of their male counterparts, at around 75% and 30% respectively. As for surfing the Internet, however, the figure for men was almost twice as much as that for women.
Copyright by Dương Vũ giáo viên Ielts 8.5 Ielts – 2 lần 8.0 Writing 
(BỘ SÁCH IELTS WRITING KÈM VIDEO BÀI GIẢNG GIÚP BẠN HỌC DỄ HIỂU HƠN HIỆU QUẢ HƠN: Buy the Book Now)
Kinh nghiệm viết luân Ielts WRITING 8.0: https://idvielts.com/kinh-nghiem-viet-luan-ielts-band-8/
Kinh nghiệm học Ielts Writing 8.0 TASK 1 các bạn đọc ở đây nha: https://idvielts.com/kinh-nghiem-hoc-ielts-writing-task-1-band-8/
Khóa học Ielts Chuyên Sâu 6.5 – 8.0: https://idvielts.com/category/khaigiang/
Follow Dương trên các Facebook sau để học các bài học Ielts 8.0+ hoàn toàn miễn phí và cập nhật nhất các bạn nhé:
https://www.facebook.com/duong5ting/