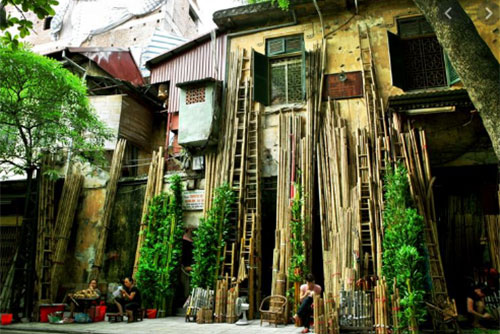 Ielts Speaking Part 2: A Home You visited but don't want to live in – Sample 8.0 -9.0 from Ielts Speaking Book by Duong Vu –  Sách tự học Ielts Speaking hướng dẫn chi tiết cách trả lời, ý tưởng, kèm câu trả lời mẫu BAND CAO, click here
Well, when I saw the topic, the first thing that sprang to mind is my friend's home in Hanoi Old Quarter. I was deeply impressed with its lifespan as several generations of her family have lived in the same house. Although I adore its cosy settings and antique interiors, I'd rather avoid residing in such places at all cost.
The house was built around the French colonial period in typical housing architecture of Hanoi at that time – a two-storey yellow building with red-tiled roofs and dark green windows. A large part of the first floor has been utilised for commercial purposes so there is actually not much space for living. There are two bedrooms but they all looks too narrow and dark. Its severe degradation manifests in cracked walls and leaked, shabby roofs. I asked my friend why they didn't renovate it but she told me this was out of the question. The area is part of Hanoi's precious cultural heritage so any construction or renovation projects must be approved by local authority, which can be extremely costly and onerous.
Another major demerit of the house is its location, right in the centre of Hanoi's most bustling business district. Local residents are tortured with incessant traffic noise day and night. Especially during traditional holidays or festivals such as Mid-Autumn, Halloween or Christmas, youngsters from far and near flock to the Old Quarter to hangout and traffic congestion can be truly a nightmare.
For these reasons, I can't imagine myself living there, even just for a short while, let alone an entire life. I have no idea why my friend hasn't moved out yet.
Kinh nghiệm viết luân Ielts WRITING 8.0: https://idvielts.com/kinh-nghiem-viet-luan-ielts-band-8/
Kinh nghiệm học Ielts Writing 8.0 TASK 1 các bạn đọc ở đây nha: https://idvielts.com/kinh-nghiem-hoc-ielts-writing-task-1-band-8/
Khóa học Ielts Chuyên Sâu 6.5 – 8.0: https://idvielts.com/category/khaigiang/
Follow Dương trên các Facebook sau để học các bài học Ielts 8.0+ hoàn toàn miễn phí và cập nhật nhất các bạn nhé:
https://www.facebook.com/duong5ting/
https://www.facebook.com/idvielts